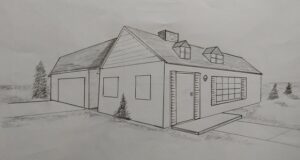 The Next Step is a class of reviewing basic perspective rules and introducing students to shading techniques.
Students should bring an 18″ ruler, 12″ x 18″ drawing paper, a variety of drawing pencils (H, HB, & B), and a couple of photos or images to use as a reference for an extended drawing. By the end of the workshop you will have a really nice drawing that can be used as a basis of a painting at a later date or presented as a drawing.
Instructor Kyle Keyser has an MS (Visual Arts Focus) from New York's Bank Street College of Education & studied at Parsons Schools of Design. He is a graduate of UVA and studied Art at Longwood College; Washington DC's Corcoran School of Art; Art Institute of Atlanta; Radford University and Virginia Commonwealth University.
If you are purchasing a ticket, make sure that you select the number of tickets you want.