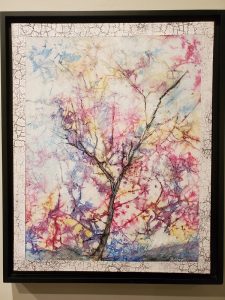 Masa
paper is a type of rice paper. When it is wet and crumpled, then touched with paint (acrylic work a best) the colors settle into the crinkles and create a batik-like effect, but without the mess of wax.  In this two-day workshop (Sat/Sun) there will be examples in different stages with a demonstration on Saturday after which you all get to experiment, play, create magic & mount to a substrate.
Once dry, we will admire & choose which side of the paper we like & plan our next steps. Will it be trees, rocks, flowers, an abstract? On Sunday we will finish.
Masa paper, some paints, a heavier mounting paper, a canvas, and gel medium will be provided. Please bring your brushes (round &/or flat, soft bristle watercolor types),  paper towels, a spray bottle for water, maybe a photo reference or two, brown bag lunch or snack & a sense of adventure.  If you have a regular palette of acrylic paints, that you use, feel free to bring them also. A plastic trash bag to carry things home in will help, too.
The maximum number of students will be 6.  Please register by January 16.
Nancy Newhard, is the Curator at AHACC. Nancy's educational background includes MS from Radford University, BS from Longwood University, and studies at Hollins University. She has been a Council Member with the VA Assoc. of Museums, and other memberships include VA & Baltimore Watercolor Societies, Smithsonian Assoc., Taubman Museum, and Virginia Museum.
If you are purchasing a ticket, make sure that you select the number of tickets you want.