Artist Ed Bordet will be coming to paint with you!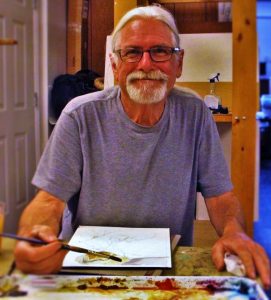 This will be a general class for beginners as well as intermediate painters of watercolor,
oil or acrylic.  He will focus on composition and design.  Ed is a graduate of the National
Academy of Art in New York City Ringling School of Art in Sarasota, Florida.  His strong
focus on how to organize a picture and his wry sense of humor should keep the class
interesting, for as he says "a good time will be had by all!"
This class is every Wednesday, beginning April 7th, and continuing on through April
28th from 2 pm – 4 pm.  Because of Covid-19 the class is limited to 8 students.
The cost is $100 for all four classes and you must register by 4/3/2021 (call 862-4447).
If you are purchasing a ticket, make sure that you select the number of tickets you want.