"How We Learn Our ABCs"
"How We Learn Our ABCs" in the Gallery beginning 8/12/19 –  9/20/19.
A native of Roanoke, VA in the Blue Ridge Mountains, Mary Boxley Bullington is a mixed media artist working primarily in water media and collage.  Characterized by dynamic color harmonies and fluid rhythms, Bullington's large canvases are designed to give viewers so much to see that they must take it in gradually, over time.  "I like telling stories.  I taught literature for 21 years, so mine is a storied imagination.", says Mary.
Her work has both a primitive and contemporary feel with stick figures symbolic of mankind and bold color often outlined in black. Mary's energetic mixed media also has a strong narrative thread.   "If someone asked me what quality is most fundamentaal to Mary Bullington's paintings and collages, I would say energy–that life riots through [her] work'–Marly Youmans, Winner 2015 Ferrol Sams Award for Fiction.
This free exhibit is in The Gallery at  The Alleghany Highlands Arts & Craft Center, and open to the public during the Center's hours of operation Monday – Saturday from 10:00 am to 4:30 pm & Sunday 1:00 pm – 4:00 pm.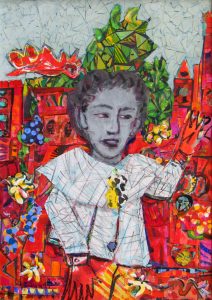 CLEAREST PHOTO: Farewell from the Red Castle. Acrylic and mixed media collage painting on plywood, 27.5 x 19.5." [The color is better with NO adjustments. except perhaps a tad of Shadows and a slight lowering of the Color Temperature.]