This exhibit will be in the gallery from June 19th to July 21st.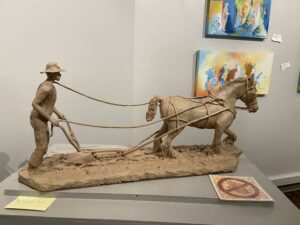 Celebrating black art and creators surrounding the Virginia area, this exhibit includes eight artist and one collector.
Clinton Helms of southern Virginia is a painter and sculptor who pursued his dream of becoming an artist after retiring from the Army reserve, with over 20 years of service.
Leah Thompson is best known for her free-flowing and colorful oil paintings that beautifully articulate the gesture of human form. Thompson also teaches elementary school art.
Donald Earley began his career as a creator in the fashion industry and has since created pieces of art ranging from different mediums. "I call my work awareness art… it is a mixture of social unrest and a political injustice movement, a form of communication that is borderline between an act of expression through touch."
Sarah Williams, a painter whose main subjects include animals and people, found her love of art through watching her mom doodle. "I am honored to be a part of this exhibit and hope my art will be an inspiration to others."
Jada Callendar, a photographer native to Clifton forge explored her love for picture taking at a very young age. Her work varies from scenic landscapes to expressive portraits.
Danny Cardwell specializes in wedding, engagement, and lifestyle photography. He and his wife are the owners of Chromatic Expressions, where they have been successful photographing weddings and other events.
Dyke Wood is a mostly self-taught artist who likes to work large and bold. His experimentation with color, shape and mood allows a broad range of creation within his works. His work ranges from expressive abstracts to powerful works of symbolism.
Pat Davis Ross is a collector who found a lack of black art reflecting her heritage. The meaning of her collection highlights the fact that owning and collecting art does not have to be expensive. Hunting for affordable images, she discovered cards, prints, and reproductions. The search of artwork that was meaningful to her is a beautiful representation of why we as human beings need art.
The Gallery is open Monday- Saturday from 10am to 4:30pm and Sundays 1pm to 4pm
Admission is FREE
If you are purchasing a ticket, make sure that you select the number of tickets you want.