This exhibit will be in the Gallery from May 22nd through June 16th.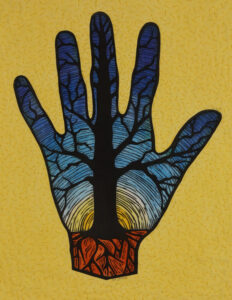 Jill Jensen is a printmaker from Lynchburg, Virginia.  She works with linoleum and eco-printing on fabric, and has won recognition both as a printmaker and quilting artist.
Jill's work can be found at the Taubman Museum of Art; San Jose Museum of Quilts and Textiles; Snidow Chapel at the University of Lynchburg; and the University of Pittsburgh Medical Center.
"My work combines bold graphic and intense color. Woodcut and linocut prints provide me with the opportunity to create images with sharp contours and positive and negative spaces. I enjoy the process of designing, carving and printing the plates on both paper and fabric."-says Jill.
The Gallery is open Mondays – Saturday from 10 am to 4:30 pm & Sundays 1 pm to 4 pm.
Admission is FREE
If you are purchasing a ticket, make sure that you select the number of tickets you want.