Do you want to properly digitize your work for competition or juried exhibitions?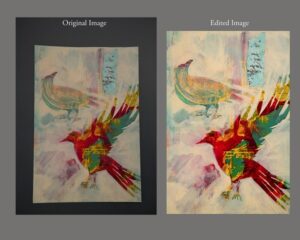 Details matter, so be sure they see your work's greatest impact while staying true to your vision. Learn how to control  things like Hue (is it warm or cool tones?) Saturation ( are colors vibrant or flat?) and Luminance (is it supposed to be dark and foreboding or high key and bright?) Image size, resolution, and file format and naming requirements are equally important to judging. Chuck Almarez is a professional & commercial photographer who will help you navigate the brave new world of show entries. Part I is on Tuesday, May 4th from 6 pm to 9 pm.  Part II will be on May 8th from 10:30 am to 1:30 pm. The fee for each is $45 **YOU MUST TAKE PART I TO PARTICIPATE IN PART II.**  Sign up for both now and receive a $5 discount.  Just enter Coupon Code "$5 OFF" when you buy your tickets. There is a maximum number of 8 students.
If you are purchasing a ticket, make sure that you select the number of tickets you want.