An exhibit of photos by Robert Sulkin will be in the Gallery beginning July 5th through July 29th.
Robert Sulkin lives in Roanoke, VA and is Professor Emeritus at Hollins University, where he taught photography from 1980 to 2019. He holds a BA in History from UNC Chapel Hill and an MA and MFA in Art from the University of Iowa. Sulkin's work has been exhibited solo, invitationally and competitively in Virginia and as far away as California. He has also received multiple awards and honors for his photography.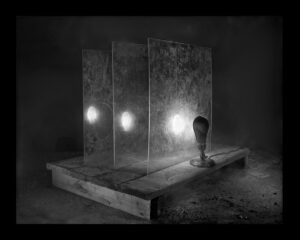 "In both my studio constructions and landscapes constructed in Photoshop, photography has allowed me to leave behind the rational world and explore a world I imagine based on how things look rather than what I know. As such, they exist as pieces of paper with tone and occasional color and hopefully a visual presence. While they might reference the actual world, I believe one would be hard pressed to encounter their content as one goes about their business in daily life." ~ Robert Sulkin
This FREE Gallery exhibit is open to the public daily Monday – Saturday from 10 am to 4:30 pm & Sundays from 1 pm to 4 pm.