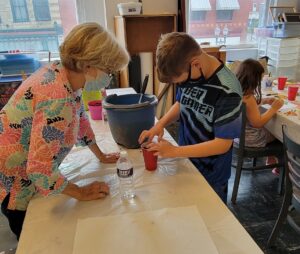 This class for kids ages K – 3rd grade, and will be on December 1st at 10 am.  The children read and discuss a story, create their own craft pertaining to the story, and sometimes there is a snack! The last Story Time Craft Class was on the book "The Biggest Pumpkin Ever" Jane E Gerver and Steven Kroll.  Kids are sure to have fun while learning with a class limit of 6 by school teachers Cathy Drummer & Judy Scott! To register for this $5 class register by clicking on GET TICKETS at the bottom right.
For more info call Cathy: 968-1648
If you are purchasing a ticket, make sure that you select the number of tickets you want.