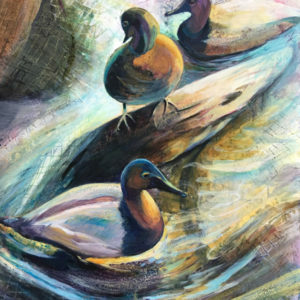 Tracy Budd and Friends: Developing a Language in Paint features Tracy Budd and seven of her students. The elements of bold color and personal technique passed through teacher to student make this exhibit an exceptional experience.
By manipulating shadow and light, as well as layering mounds of acrylic paint to achieve a powerful and enchanting movement throughout her works, Tracy Budd has most definitely mastered her own language of art.
Stewart Bruce finds art to be a priority and an activity that evokes relaxation and the passion to create original art. Through learning with Tracy Bruce has found appreciation for the interactions and feedback from other artists and found that it has been beneficial to creating his own style.
Patti Jones: "inspired by the beauty, color, and design of God's creation, I enjoy expressing myself through the vibrancy of color illuminated by natural light. When I set out to paint it is like embarking on a great adventure, never quite knowing where the process will lead, but truly savoring each step of the journey."
Mimi McHale is a mostly self-taught artist who enjoys the occasional art class.  Mimi's work incorporates striking usage of bright colors and unapologetic strokes of acrylic paint and mixed media additions.
Sally Meyers: "Other than a good seventh grade art teacher, I have had no formal training in the art field. Recently I've begun to broaden my horizons and have taken a couple of classes at the Studio School in Roanoke with Tracy Budd. Its a whole new world- a challenging new world."
Leslie Mitchell: "I am an aspiring artist from the Roanoke region. I have always loved the world of creativity. I love the fact that with acrylic, collage and textured canvases I can create nature-based abstracts as well as other styles."
Bee Patton: "I tend to work with more negative sentiments as I find them more complex and interesting." Bee has grown up with synesthesia, a condition that intertwines the senses and causes the response stimuli to send sensations that would not otherwise be triggered, for example seeing colors or shapes in response to a sound or music.
Yangju Lee Simpkins: "I was born and raised in South Korea, completed my art education there and majored in fine art and graphic design. I've been fascinated by acrylic paining for 15 years and I love mixed media and like to create my own collage papers to make beautiful artwork."
Elaine Wilson: "Drawing things makes them seem more real and makes me feel more alive. It also helps me remember things: landscapes, seasons, weather, occasions, incidents, and people that I would otherwise have melted from my memory."
The Gallery is open Monday- Saturday from 10am to 4:30pm and Sundays 1pm to 4pm
Admission is FREE
If you are purchasing a ticket, make sure that you select the number of tickets you want.