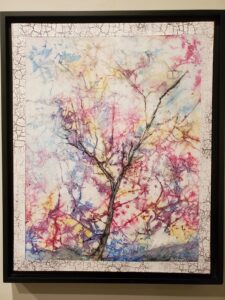 This 2-day workshop is available to ages 16 and up. Masa paper is a type of rice paper. When it is wet and crumpled, then touched with paint (acrylic or watercolor) the darker colors settle into the crinkles and create a batik-like effect, but without the mess of wax. 
Supplies will be mostly provided for the class, however, bring your choice of brushes, and favorite acrylic and/or watercolors plus a stack of newspapers, a reference photo, and a sense of adventure! Brown bag lunch or snack, and a plastic trash bag to carry things home will help too.
8/15 & 8/16 from 10:30 am – 1:30 pm. Cost is $50. Register by 8/13
If you are purchasing a ticket, make sure that you select the number of tickets you want.