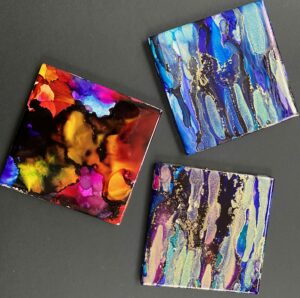 Due to unforeseen circumstances, this class is no longer available.
This class introduces students to alcohol inks and all the possibilities of the inks.  With the guidance of Jennifer Galvin, we will be using alcohol ink to create a beautiful, colorful wine glass to take home. You don't have to be an artist to create a masterpiece; alcohol ink is easy to work with and looks great when you're finished!
Even beginners will enjoy this workshop. If you've been interested in learning how to work with alcohol ink, this workshop is for you! Jennifer will bring supplies for all participants to create a beautiful wine glass—perfect for a Christmas gift! Class limited to 10.
If you are purchasing a ticket, make sure that you select the number of tickets you want.