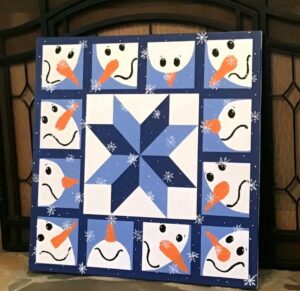 Learn to paint your own Barn Quilt with Pam Hirt.  Pam began needlepoint & embroidery in middle school, and later discovered cross stitch and fell in love!  Barn Quilts have become her new love, and the gridding involved is much like that of cross stitch only on a much larger scale.  Rather than using traditional quilt patterns, Pam designs her own Barn Quilts.
This 3-day class will take place on November 14th, 15th & 16th from 5:30 pm-9:30 pm.  There will be room for 8 students (16+), so register early!  The cost is $100, and Pam supplies all of the materials except 1″ angled brushes that you need to bring.
If you are purchasing a ticket, make sure that you select the number of tickets you want.