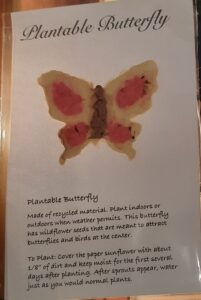 This class introduces students to plantable paper and all of the fun of using recycled materials to make beautiful Christmas ornaments. With the guidance of Jennifer Galvin, we will be using recycled mat board to create beautiful ornaments embedded with seeds. Even beginners will enjoy this workshop. If you've been interested in learning how to work with plantable paper, this class is for you!  Jennifer will bring all of the supplies for students to make pulp and then make plantable ornaments. Everyone will go home with a few paper ornaments with seeds inside. Feel free to bring your own cookie cutters if you want a particular shape for your ornament, otherwise, all materials will be provided. Class limited to 12.
Virginia based artist, Jennifer Galvin, reclaims discarded material and gives it new life—old t-shirts, jeans, and mat board are transformed into intricate works of art. Jennifer has been making paper since 2002 and has a degree in art from Oregon State University. Jennifer also enjoys working in alcohol ink and has been working in this medium since 2016.  Jennifer Galvin has 25+ years of experience in art instruction. Jennifer has taught art to people of all ages in printmaking, papermaking, alcohol ink, and painting. Jennifer is currently on the Artists Roster at the Virginia Commission for the Arts. http://www.arts.virginia.gov/roster_Jen_Galvin.html  Jennifer's pulp paintings have been shown regionally, nationally, and internationally, and have won several awards in National Juried Exhibitions. She is a member of IAPMA (International Association of Hand Papermakers and Paper Artists), NAHP (North American Hand Papermakers), FCCA (Fredericksburg Center for the Creative Arts), and her work is shown locally at Alleghany Highlands Arts and Crafts Center in Clifton, Forge.
If you are purchasing a ticket, make sure that you select the number of tickets you want.