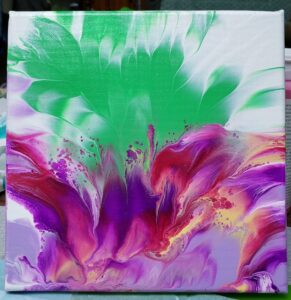 Paint pouring is a way to create beautiful wall art and home décor for your home.  Acrylic paint pouring is a type of fluid art.  It consists of pouring different color paints over a surface.  The entire canvas is then tilted to allow the paint to flow in different directions to cover the edge of the canvas.
A description of the types of pours will be reviewed at the beginning of class.  Samples will be provided for the students to view.  Students will create an abstract painting using an acrylic pour on a 9″ X 12″ canvas. They will select the colors desired and the type of pour they wish to use.  All supplies will be provided.  Libby is encouraging age 10 into adulthood to come try this fun medium.  The cost is $35 and agrees to a limit of 8 students.  The date of this class is March 25th from 10:30 am to 3:30 pm.
Libby calls herself  "a jack of all trades – a master of none"!  Since retirement she began to delve into the arts.  She is a student herself, taking various classes in different mediums, especially watercolor and acrylic.  However with acrylic pouring she is self-taught through online demonstrations and classes.
If you are purchasing a ticket, make sure that you select the number of tickets you want.