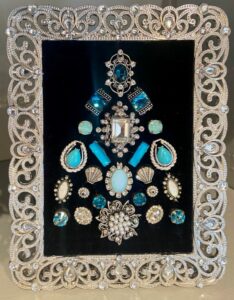 Libby Burger will be teaching you how to use old and new jewelry pieces to create a framed Christmas tree. Students will glue velvet material to the frame and use the jewel pieces to create their very own framed tree. This tree will hopefully reflect a part of your personality, by choosing gems that catch your eye. There are only 8 spaces available, so purchase a ticket if you are interested!
This class will be on December 9th from 10:00am to 2:00pm 
Students are asked to bring their own frame. This frame can be 5×7, 8×10, or 9×12. Jewelry pieces are provided, however, you may bring your own if you have them. 
Age Limit: 12 and over
Cost:$40.00
If you are purchasing a ticket, make sure that you select the number of tickets you want.