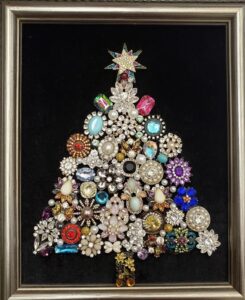 The class will be held on November 15th from 10 am – 2 pm. The cost of the class is $40. This will be a fun class for all! Students can include teens to seniors and will be limited to 8- so reserve your spot soon! Just bring a picture frame (5″ x 7″ or 8″ x 10″) of choice and any special piece(s) of jewelry you would like in your heart. All other supplies will be provided. Click below to register for "Jeweled Trees".
"I am a retired RN who considers myself a 'Jack of all trades and Master of none!'" "I have been enjoying "playing" in the Art World since retiring 10 years ago."
Libby has taken numerous classes and watched a plethora of YouTube videos to learn methods and techniques, so that she might produce her very own works of art. Recently she has dabbled with stained glass, floral decorations, jeweled art, photography, collage and most recently painting with acrylics.
If you are purchasing a ticket, make sure that you select the number of tickets you want.