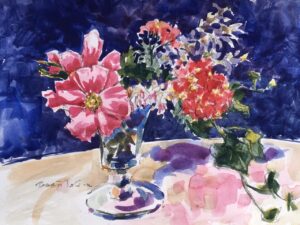 Brett LaGue is an award winning artist working in watercolor, acrylic & oils, known primarily for his paintings of the Virginia landscape.
This class is every Tuesday beginning June 14 – July 19.  Six classes to help artists at any level bring flower paintings to life. You start with simple shapes and end with creating cheery combinations of your favorite flowers! Learn now to create the illusion of soft florals with a minimum of detail and a maximum of enthusiasm. Full painting demos and lots help to see you on your way. Flowers provided for each class. This is a perfect class for anyone with basic watercolor experience.
The course is designed for watercolor beginners or those needing a little guidance.
A suggested materials list:
Brushes — a quality synthetic sable works fine
1/2" Aquarelle (has a scrapper on the end)
1/4" Aquarelle (has a scrapper on the end)
#6 and #2 rounds
Tube Watercolors— a good student grade is fine, such as Windsor & Newton "Cotman" or "Turner Professional" (Which often comes in sets that includes these colors and many more).
Cadmium Red Hue
Ultramarine Blue
Cadmium Yellow Hue
Cerulean Blue Hue
Rose Madder Hue (or any bright pink)
No genuine Cadmiums needed
Paper —watercolor pad, 9×12" minimum. A very good student paper is Canson's XL watercolor paper. A mixed media sketchbook will also be helpful.
Additional supplies —
Pencil
Kneaded eraser
Mixing tray with at least six wells and plenty of mixing space
Small spray bottle for water
Class size: Maximum of 10
Cost: $150 for 6 weeks, not including supplies
If you are purchasing a ticket, make sure that you select the number of tickets you want.