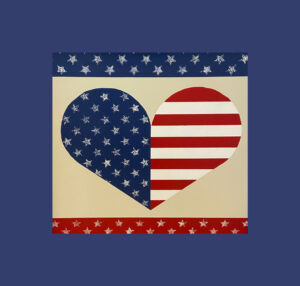 This class is temporarily postponed. A new date will be released soon. Please call the Art Center at (540)862-4447 if you have any questions. 
Learn to paint your own Barn Quilt with Pam Hirt.  Pam began needlepoint & embroidery in middle school, and later discovered cross stitch and fell in love!  Barn Quilts have become her new love, and the gridding involved is much like that of cross stitch only on a much larger scale.  Rather than using traditional quilt patterns, Pam designs her own Barn Quilts. 
In this two day class students will use outdoor paint (red, white, and blue) on a 2×2 board to create a patriotic design of a heart/flag.
PLEASE BRING-
1″ angled brush
all other supplies are included.
Date: September 23-24 (Sat-Sun)
Time: 12pm to 4pm on Saturday and 1pm to 5pm (sun)
Price: $100 per person
Age: 16 and up
Minimum of 4 participants, maximum of 10
If you are purchasing a ticket, make sure that you select the number of tickets you want.