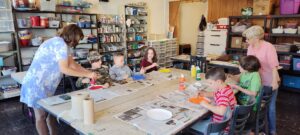 This class for kids in 3rd-7th grade is held on the first Wednesday of every month at 10:30-11:30. The children will read and discuss a story, make their own craft pertaining to the story, and often there is a snack! Kids are sure to have fun while learning with school teachers Cathy Drummer & Judy Scott! Only three spots available.
All supplies provided. Each session is free, but registration is still required. Register by clicking on GET TICKETS at the bottom right.
For more info call Cathy: 540-968-1648
If you are purchasing a ticket, make sure that you select the number of tickets you want.