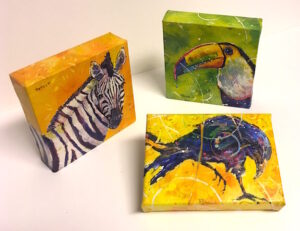 It sounds like an unlikely combination, but paints & wax can create fantastic results! We'll draw images on rice paper. Then paint from light to dark & use melted canning wax to "protect" underlying areas & colors. This process continues until entire the surface is covered with paint & wax. Then we get out an iron! The results are ALWAYS colorful, delightful & surprising. Students of All Levels will enjoy this workshop.
PLEASE BRING:
• PAINT: Yellow, Red, Blue, Brown and a few of your other favorite colors should do. Either watercolor or acrylic (or combination)
• PALETTE: Room for putting out dabs of paint AND mixing. A glass plate works.
• BRUSHES: Inexpensive ones (not good sable brushes). A synthetic round #4, #8, and #12, a flat 3/4" is plenty.
• A regular pencil and eraser
• A black Waterproof Pen: either a Micron 01 or an Ultra Fine Point Sharpie (a different
brand, as long as it's waterproof & has a fine point).
• A roll of paper towels
• Great paintings to mount on stretched, gallery wrapped canvas. 6" x 6" is a great size.
(I can provide larger paper to wrap up to an 8 x 12 canvas.)
• BRING plenty of photos or sketches to work from. Scenes from where you live, simple landscapes, animals, birds, flowers… nothing overly detailed. I'll also provide lots of ideas and templates, too.
I WILL PROVIDE:
Rice paper, backboards, wax, frying pans, wax brushes, mounting glue & all the odds & ends.
Date: July 29-30 (Sat – Sun)
Time:  10:00 a.m. – 3:00 pm on Sat. and 12:00 – 3:00 on Sunday
Price: $85 per person
Minimum: 4 students, maximum 9
If you are purchasing a ticket, make sure that you select the number of tickets you want.