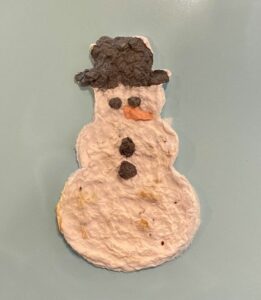 Due to unforeseen circumstances, this class will no longer be available. 
This class introduces students to plantable paper and all of the fun of using recycled materials to make beautiful plantable paper Christmas Ornaments. With the guidance of Jennifer Galvin, we will be using recycled mat board to create Christmas shapes embedded with seeds. Even beginners will enjoy this workshop. If you've been interested in learning how to work with plantable paper, this class is for you!  Jennifer will bring all of the supplies for students to make pulp and then make plantable paper. Everyone will go home with several plantable  ornaments with seeds inside. Feel free to bring your own cookie cutters if you want a particular shape for your plantable paper, otherwise, all materials will be provided. Class limited to 12.
If you are purchasing a ticket, make sure that you select the number of tickets you want.